Construction Updates
Work Scheduled for the Week of May 6 – May 10
Concrete driveway, sidewalk, and curb repairs will begin on Monday, May 6 throughout the project area.

The project team has marked concrete areas in pink paint that will be removed and replaced by the contractor. There are some concrete driveway panels that need to be replaced and a notice will be given to individual properties that their driveway will be getting replaced and they will need to park on the street to allow the concrete to fully cure. Driveway and alley access will be restored once the curing process has been completed, usually 5-7 days

Other miscellaneous clean-up items will occur throughout the project area.
Remaining Work
Concrete Alley repairs behind Lake St NE. Residents off of the Lake St Alley will be notified separately at a later date.
Turf restoration will be finished throughout the project area by the end of the month.

The project team has identified certain areas that need to get fixed by the contractor regarding sod issues, but residents should contact Josh Hrabe at (612-965-2473) to report their concerns with their yards by May 15th. Once the contractor has addressed sod issues, there will be a 30-day warranty in which the contractor will water and maintain sod. After the 30-day warranty the sod becomes the responsibility of the property owner/tenant to maintain. A notice will be given to residents regarding the end date of the warranty.

Clean-up work will wrap up by the end of the month.
Striping on some of the roads is scheduled to occur by the end of the month.
Should property owners have any questions about this information or the project in general, please contact Josh Hrabe at (612) 965-2473.
Nick Amatuccio can also be contacted with questions about the project at (612) 965-3926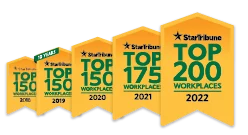 Named one of the very best workplaces in the State of Minnesota! We're proud to rank in the Top 50 on the list, and even prouder that we were voted in by our own employees.