FAQ's
Q: How long will it take to complete this project?
The project is scheduled to begin in May or June and be substantially completed in October/November, 2018. The project will be broken up into phases so that not every block will be under construction at once.
Q: What work will be done on the project?
Replacement of the sanitary sewer system along all of the Hopkins Streets.
Replacement of the watermain system along all of the Hopkins Streets.
Replacement of sewer and water services along all of the Hopkins Streets.
Storm sewer replacement throughout various locations in the project area.
Street pavement reconstruction along Texas Ave S, Division St, Cambridge St, Oxford St, Murphy St, and Lake St NE.
Pavement rehabilitation of the existing asphalt alley south of Lake ST NE and west of Texas Ave S.
5 ft concrete bike lanes on both sides of Texas Ave S.
5 ft concrete sidewalk on the east side of Texas Ave S.
Q: Will streets be closed during the project?
During working hours, 7 AM to 7 PM M-F and 8 AM to 6 PM on Saturday as necessary, some access will be restricted as the street is under construction. The City will work with the contractor to minimize the duration and extent of closures.
Q: Is there someone I can talk to about specific construction related issues or concerns at my property?
Nick Amatuccio is the Project Engineer and can be reached at 612-965-3926 or nickam@bolton-menk.com.
Josh Hrabe of Bolton & Menk is typically on-site during construction and will be serving as a liaison between property owners/residents and the contractor. Leading up to and during construction, Josh can be reached at 612-965-2473 or joshhr@bolton-menk.com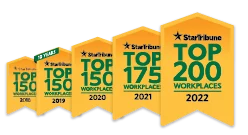 Named one of the very best workplaces in the State of Minnesota! We're proud to rank in the Top 50 on the list, and even prouder that we were voted in by our own employees.