Project Overview
The City of Houston is beginning to plan for the 2020 Street and Utility Improvement Project along South Lincoln Street between West Cedar Street and West Elm Street. Improvements will include complete reconstruction of the street and underlying City utilities which include:
Sanitary sewer
Watermain
Storm sewer
The estimated cost of the proposed improvements is $1.3 million. A portion of the project costs will be assessed to adjacent properties in accordance with Chapter 429 of the Minnesota Statutes.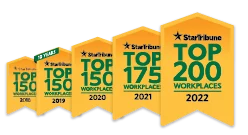 Named one of the very best workplaces in the State of Minnesota! We're proud to rank in the Top 50 on the list, and even prouder that we were voted in by our own employees.