Project Overview
The City of Plainview is planning the construction of the 2020 Street and Utility Improvement Project, which will consist of the full reconstruction of street and utility (sanitary sewer, watermain, & storm sewer) infrastructure in the following areas:
Hillcrest Second Addition
2nd Street Southwest
In addition, various streets throughout the City of Plainview will have a mill and overlay completed on them as a part of this project.  Construction is planned for the summer of 2020.  The estimated cost of the proposed improvements is $3.2 million.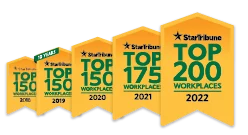 Named one of the very best workplaces in the State of Minnesota! We're proud to rank in the Top 50 on the list, and even prouder that we were voted in by our own employees.