Contacts

Derek Olinger, P.E. – City Engineer
Derek.Olinger@bolton-menk.com
Office:
507-208-4332 x3064
Mobile:
507-525-2685
---
Mark Trogstad-Isaacson, P.E. – MnDOT Project Manager, District 6
mark.trogstad-isaacson@state.mn.us
Office:
507-251-2313 2900 – 48th ST NW
Rochester, MN 55901
---
TH30 Comments
Send us your comments or questions about the project.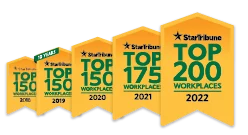 Named one of the very best workplaces in the State of Minnesota! We're proud to rank in the Top 50 on the list, and even prouder that we were voted in by our own employees.