Training Events
(click on an event for more information)

Smart Salting for Parking Lots & Sidewalks
February 15
@
8:00 am
–
1:00 pm
Virtual training event – Learn best practices to reduce salt use while maintaining safe walkways, parking lots, and service roads in this interactive online class, offered via Webex. Participants earn a five-year Level 1 (individual) certification by completing the test at the end of class.
Minnesota Pollution Control Agency
smartsalting.pca@state.mn.us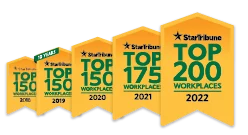 Named one of the very best workplaces in the State of Minnesota! We're proud to rank in the Top 50 on the list, and even prouder that we were voted in by our own employees.