The 2017 Founders Award was presented at the Bolton & Menk Annual Party on November 18. This year's recipient was Anne Gode, CPSM, Marketing Work Group Leader. Anne has been with the firm for 13 years. During her time with the firm, she has been a part of several collaboration groups and innovation teams to help identify ways to meet client needs and streamline internal processes. Anne was a key member of the rebranding team and is an advocate for showcasing our Real People, Real Solutions brand. She has a strong desire to pursue and take on new challenges and initiatives to help grow our company.
The Founders Award honors the firm's founders, John Bolton & Martin C. Menk. This award recognizes an individual's initiative, commitment to quality, and client satisfaction. John and Martin believed that a business is truly successful when people are committed to its goals, represent the firm well, and are dedicated to meeting client's needs.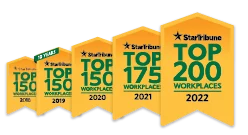 Named one of the very best workplaces in the State of Minnesota! We're proud to rank in the Top 50 on the list, and even prouder that we were voted in by our own employees.