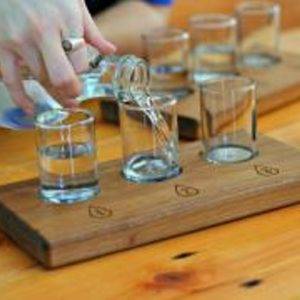 The Water/Ways traveling Smithsonian exhibition arrived in Saint Peter this week. Hosted by Nicollet County Historical Society Aug. 13- Sept. 25 at the Treaty Site History Center, Bolton & Menk is proud to support the local efforts for the project. We have teamed up with Nicollet County Historical Society and Arts Center of Saint Peter to host a reception at the Arts Center on Friday, August 19, from 5-7 p.m., featuring a water bar — a unique chance to sample area waters and learn about water quality issues. The water bar is organized by Works Progress and will be "bartended" by Bolton & Menk staff. The reception is free and open to the public. "WaterStories: Work by Members of the Arts Center of Saint Peter," will also be on display at the Arts Center for attendees to enjoy.
Bolton & Menk also had the opportunity to sponsor the Water/Ways mural at the Treaty Site History Center. The Smithsonian Water/Ways Traveling Exhibit will be on display now through September 25 at the Nicollet County Historical Society's Treaty Site History Center in Saint Peter. If you have a chance, take some time to visit this great opportunity! Saint Peter was one of five cities in the state of Minnesota to host the Smithsonian exhibit.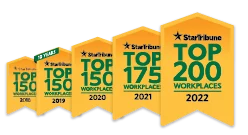 Named one of the very best workplaces in the State of Minnesota! We're proud to rank in the Top 50 on the list, and even prouder that we were voted in by our own employees.