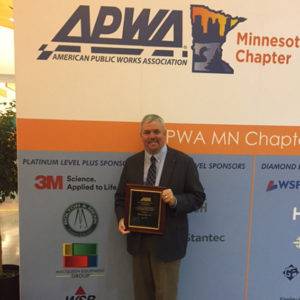 Bolton & Menk, Inc. was selected as winner of the American Public Works Association (APWA) 2016 Harry S. Swearingen Award for Outstanding Achievement and Excellence in Chapter Service – Corporate Division. APWA's goal of providing opportunities that help public works personnel directly impact the quality of life in all the communities they serve aligns well with the firm's corporate values and philosophy of seeking and delivering the right solutions to its public clients. Bolton & Menk received the award at the APWA Public Works Expo in Minneapolis on August 29.
Throughout Bolton & Menk's alliance with APWA-MN, they have sought opportunities to recruit for the engineering profession, to increase public appreciation and support for infrastructure solutions, and to create an awareness and understanding that these services are essential to a higher quality of life. With this understanding – Bolton & Menk believes – comes appreciation, and with that appreciation comes political support and public funding; all of that rounding full-circle to a higher quality of life, and even greater levels of public awareness.
Bolton & Menk is a regional consulting firm providing infrastructure solutions to public agencies throughout the upper Midwest. Their success is grounded not only in technical and managerial approaches, but also in a commitment to customer service and client satisfaction. Their staff of over 400 engineers, planners, landscape architects, and surveyors continually strive to not only be a reliable technical resource, but also a responsive partner with the ability to listen and understand the unique needs of each client they serve, resulting in a truly collaborative and successful relationship.