The City of Perry, Iowa received Bronze SolSmart designation November 17 at the National League of Cities conference. Bolton & Menk's Butch Niebuhr accepted the award on the City's behalf.
The City of Perry is very proud if it's Caboose Park and Farmers Market PV solar installation, which offsets electricity costs for market vendors as well as for the Parks and Recreation Department. This solar installation was banking enough solar credits because of a net metering tariff that the City moved to using an all-electric John Deere Gator for Parks and Recreation maintenance activities that effectively recharges using electricity produced from the solar array. The City has implemented extensive energy efficiency improvements at City facilities and has a grand vision to provide PV solar to all their facilities effectively making the City government facilities net zero in terms of electrical energy from the grid. The City looks forward to continuing to advance its SolSmart designation.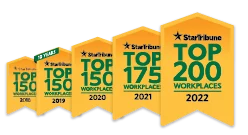 Named one of the very best workplaces in the State of Minnesota! We're proud to rank in the Top 50 on the list, and even prouder that we were voted in by our own employees.