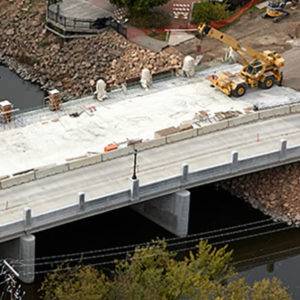 The Carver County CSAH 10 River Crossing in Watertown, MN project was selected by the American Council of Engineering Companies of Minnesota for an Honor Award at the 2016 Engineering Excellence Awards Banquet on January 29.
The 70-year-old CSAH 10 bridge in downtown Watertown—the only river crossing for miles in either direction— was in need of rehabilitation or replacement. It was narrow, susceptible to flood closures, and was deemed scour critical. Increasing local and regional usage also created demand for additional capacity.
At the request of the City of Watertown, Carver County initiated a study to select a second river crossing location that aligned with the city and county comprehensive plans. The goal was to complete construction prior to addressing the aging bridge downtown.
Carver County officials enlisted Bolton & Menk to identify and evaluate alternatives that would meet their collective objectives. A southern river crossing alignment that united both comprehensive plans was identified. During the process, city leadership changes shifted the focus to improving the downtown bridge and traffic operations.
The existing bridge was eligible for listing on the National Register of Historic Places and, though the desire was to preserve the bridge, it was determined that rehabilitation would not allow for necessary improvements to traffic flow and flood protection. Through extensive collaboration with the Army Corps of Engineers, the Minnesota State Historic Preservation Office, and the Carver County Historical Society, the determined solution was documentation of the structure and replacement in full.
A staged construction process allowed traffic over the river during construction. The staging was plausible by only a few feet to allow construction of a new roundabout intersection.
Work began in February 2015 and was completed on schedule in October 2015.