Joe is an aviation project manager at Bolton & Menk who started his career in 2007. His experience includes project design and management, contract administration, and construction observation as well as reconstruction, rehabilitation, and development of runways, taxiways and aprons. Joe is a member of Iowa ASCE and the Iowa Engineering Society. He is excited to work with clients and continue to grow the airports division in Iowa. 
Contact Joe today to launch your next aviation project. 
1519 Baltimore Drive, Ames, IA 50010 
(515) 233-6100 • Joe.Roenfeldt@bolton-menk.com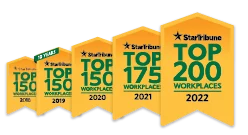 Named one of the very best workplaces in the State of Minnesota! We're proud to rank in the Top 50 on the list, and even prouder that we were voted in by our own employees.