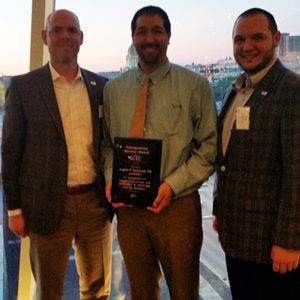 The American Council of Engineering Companies of Minnesota (ACEC/MN) honored transportation project engineer, Justin Schmidt, with the Distinguished Service Award at their Annual Meeting on Thursday.
Justin was recognized for his efforts in organizing and managing the annual basketball tournament for the ACEC/MN scholarship fund over the past several years. Under Justin's leadership, the tournament has grown—both in participation and in scholarship donations. The basketball tournament provides the equivalent of one student scholarship each year. ACEC/MN's staff and board of directors shared their appreciation of his hard work.
We congratulate Justin on his Distinguished Service Award and the great work he does with the ACEC/MN organization and at Bolton & Menk!
Click here to see Bolton & Menk's 2017 ACEC Basketball Tournament Video