Mary Gute, AICP recently joined the Bolton & Menk team as a Transportation Planner.
Mary has 14 years of progressively complex transportation/ environmental planning and project management experience. She will be involved in all aspects of transportation planning and design, including transportation studies, environmental reviews, land use compatibility and integration, and stakeholder involvement activities. She will work closely with our municipal, county, and state DOT clients.
Mary holds an M.S. in Urban and Regional Planning, a B.S. in Anthropology/ Environmental Studies, an M.P.A. and is a registered Professional PLanner. She is also active in the Women's Transportation Seminar and the American Planning Association.
Contact Mary today to
discuss your next project:
(952) 890-0509
marygu@bolton-menk.com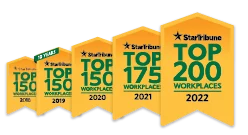 Named one of the very best workplaces in the State of Minnesota! We're proud to rank in the Top 50 on the list, and even prouder that we were voted in by our own employees.