Aaron Schmidt, PE
Principal Engineer
Aaron is a principal engineer, beginning his career at Bolton & Menk in 2011. He has extensive experience in the design, project management, and construction administration of complex municipal, trunk utility, transportation, and other multifaceted projects. Aaron is passionate about using both his technical and interpersonal skills to collaborate and find sustainable solutions to problems in the communities he serves. He takes pride in staying fully committed to any issue until a sustainable solution is found and the work is complete. Outside of work you can find Aaron spending time with his family and enjoying the four distinct seasons he gets to experience living in Minnesota.
Education
North Dakota State University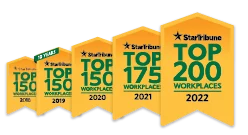 Named one of the very best workplaces in the State of Minnesota! We're proud to rank in the Top 50 on the list, and even prouder that we were voted in by our own employees.