Adam Jacobs, PE
Principal Engineer
As a Principal Engineer at Bolton & Menk, Adam is responsible for performing and coordinating the design and preparation of construction documents for a variety of municipal projects, as well as construction administration and observation activities. Adam kicked off his professional career at Bolton & Menk in 2005. His experience with design computations, preliminary layout and design, research and preparation of preliminary reports, and infrastructure management studies make him a highly valued asset of our leadership team. He is passionate about working through processes with clients to find the creative and unique solutions they desire. Outside of work, Adam can be found getting his hands dirty working on his farm and enjoying the great outdoors with his family.
Education
South Dakota State University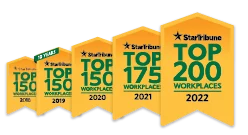 Named one of the very best workplaces in the State of Minnesota! We're proud to rank in the Top 50 on the list, and even prouder that we were voted in by our own employees.