Andy Hill, PLS
Principal Survey Manager
Andy enjoys embracing new technology to make our work more efficient and versatile. Andy is the Willmar and Ramsey Principal Survey Manager who began the practice of surveying in 2006. His experience includes topographic, engineering design surveys, machine guidance systems, cadastral surveys which he has gained through his involvement in a large variety of projects ranging from billion dollar construction projects, to street reconstructions, all the way down to single lot surveys. His background includes gaining licensure in New Zealand, and then Australia, before obtaining his Minnesota license in 2019. Andy's passion for his work stems from the rewarding feeling of finding the right solution for each client. When away from work you'll find Andy spending time with his wife and three daughters whether it be snow skiing, water skiing, or spending time at the lake.
Education
University of Otago, New Zealand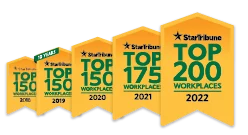 Named one of the very best workplaces in the State of Minnesota! We're proud to rank in the Top 50 on the list, and even prouder that we were voted in by our own employees.