Anne Gode, CPSM
Principal Business Development Director
Anne began her marketing career in 2002, joining Bolton & Menk in 2004. She leads the business development and marketing efforts for the firm, assisting all work groups in the implementation of firm-wide, client-focused business development. Under Anne's direction, the marketing work group leads the planning, writing, and production of formal client proposals; coordinates and manages industry-related conferences and events, sponsorships, and speaking engagements; and directs brand enhancement activities including internal and external focused content creation, award nominations on behalf of our clients, and web and social media presence. Anne is a Certified Professional Services Marketer through the Society of Marketing Professional Services and a graduate of Professional Services Marketing Leadership Institute from the University of Maryland.
Education
University of Maryland

Minnesota State University, Mankato
Awards
Bolton & Menk, Inc. – Above & Beyond Award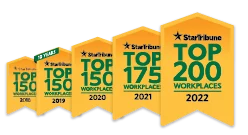 Named one of the very best workplaces in the State of Minnesota! We're proud to rank in the Top 50 on the list, and even prouder that we were voted in by our own employees.