Bill Helget, PE
Principal Engineer
Passionate about working with clients, Billy helps them identify needs, finds ways to address those needs, and creates projects with solutions. As principal work group leader of Sleepy Eye operations, Billy communicates with clients, directs staff, works with various agencies, and provides overall direction for the study, design, and construction aspects of a project. He uses his expertise in hydraulics, hydrology, rural drainage, and municipal and rural highway design to help clients find sustainable solutions. Billy started working for Bolton & Menk as an intern in 1997, which turned into a fulltime career and the opportunity to be an owner of the firm. After two decades with Bolton & Menk, his advice to others is, "Work hard, ask questions, learn from others, listen intently to your client's needs, and just have fun."
Education
South Dakota State University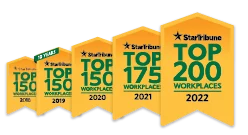 Named one of the very best workplaces in the State of Minnesota! We're proud to rank in the Top 50 on the list, and even prouder that we were voted in by our own employees.