Brian Lamb
Director of Mobility Advancement
Brian began his transit career in 1980 and serves as Bolton & Menk's director of mobility advancement. He has extensive transit operations and planning experience and served as the general manager for Metro Transit for more than 14 years. Brian is a trusted advisor who is passionate about public service. He thrives on understanding and supporting communities that depend on transit services and creating attractive options for people seeking environmentally friendly and cost-effective alternatives to driving. Outside of work you can find Brian on the golf course or spending time with family and friends.
Education
University of Minnesota – Twin Cities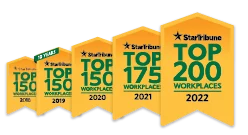 Named one of the very best workplaces in the State of Minnesota! We're proud to rank in the Top 50 on the list, and even prouder that we were voted in by our own employees.