Bryan Nemeth, PE, PTOE
Principal Transportation Engineer
Bryan is a senior traffic engineer who began his career in 1998. His passion for developing solutions to non-standard issues is evident in the work he manages. Bryan has led or co-led multiple research and innovative design projects including the Evaluation of Uncontrolled Pedestrian Crossings, bike signals, emergency vehicle hybrid beacons, and mini-roundabout design. His core expertise includes traffic safety, critical methodology analysis, and innovative intersection designs. He also has experience in traffic forecasting, operational analysis, and traffic design. When he's not diving into the technical details, Bryan enjoys setting his mind on running, cross country skiing, and board games with his kids.
Education
University of Wisconsin – Madison

University of Colorado Boulder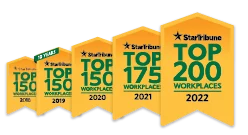 Named one of the very best workplaces in the State of Minnesota! We're proud to rank in the Top 50 on the list, and even prouder that we were voted in by our own employees.