Casey Byers, PLA
Principal Landscape Architect
As a principal landscape architect, Casey focuses on helping communities implement projects that are beneficial to stakeholders and residents, alike. His experience in urban design, corridor planning, parks and recreation, and master planning span the project life cycle from concept development through construction and operations. His ability to build community support through conscious design, timeliness, and effective public facilitation has led to the successful completion of many projects backed by community support. Casey's passion for planning and urban design stems from his love for helping communities realize their vision, along with conveying the value of quality, technically sound, and environmentally conscious designs to the public. "We never stop learning and it is in our nature to help and teach others. My favorite part of what we do is the collaboration it takes to develop and implement creative solutions. It is that process of collaborating with our clients and bringing thoughtful ideas to the table that drives me." When he's not on the clock, you can find Casey taking every opportunity to spend time outdoors with his friends and family.
Education
Iowa State University College of Design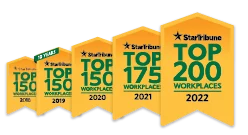 Named one of the very best workplaces in the State of Minnesota! We're proud to rank in the Top 50 on the list, and even prouder that we were voted in by our own employees.