Chad Fowlds, PE
Principal Transportation Engineer
Chad is a principal transportation engineer who began his career in 1996. He is a project manager during the construction and design phases of transportation projects. He finds construction and contract administration the most rewarding portion of a project. Chad has gained experience in delivering highway and bridge projects of various size and scope. This experience includes project management of federal and state highway projects using design-bid-build, design-build, and indefinite delivery/indefinite quantity procurement methods. He has led several projects with innovative contracting methods in order to make them more successful. When not working on his favorite projects, Chad likes to spend time with his family and is a self-proclaimed outdoorsman who enjoys pheasant hunting, fishing, and golfing. An avid football fan, you can also find him cheering on his favorite teams on the gridiron.
Education
South Dakota State University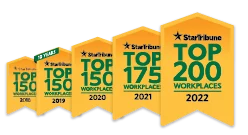 Named one of the very best workplaces in the State of Minnesota! We're proud to rank in the Top 50 on the list, and even prouder that we were voted in by our own employees.