Chris Chromy, PE
Senior Principal Transportation Engineer
Chris is a senior principal transportation engineer, a member of the Bolton & Menk Board of Directors, and leads the overall specialty services operations of the firm. He is passionate about working with clients to create safe, efficient transportation systems. Chris began his career in 1993 and leads the Transportation Work Group, creating an impressive a track record of delivering highly visible, multimodal transportation projects. This success, in part, is due to the priority he places on maintaining effective communication with clients and project team members. He understands the interdependent relationships between the various functional areas of a project and promotes synergy between them to surpass clients' expectations. Chris' love of Minnesota brings him and his family on trips throughout the state camping, boating, hiking, and skiing. Does Chris constantly think about how he could make roads and intersections better while taking his road trips? Of course, he does!
Education
Awards
North Central Institute of Transportation Engineers – Young Transportation Professional of the Year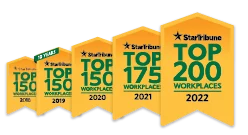 Named one of the very best workplaces in the State of Minnesota! We're proud to rank in the Top 50 on the list, and even prouder that we were voted in by our own employees.