Cory Bienfang, PE
Principal Engineer
As a principal engineer and project manager, Cory is responsible for managing projects from conception through construction. He began his career in 2009 and is involved in projects throughout the many different stages of development. He has a range of experience related to highway and streets, parks and trails, parking lots, stormwater systems, and residential and commercial developments. His responsibilities also include managing various design elements of a project and the staff required to deliver the final product. Cory is driven by the challenge to complete a project that is technically sound, within budget, and exceeds the client's expectations. Outside of work, Cory enjoys spending time with his wife and three daughters, hunting, and working on their country home.
Education
South Dakota State University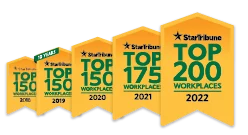 Named one of the very best workplaces in the State of Minnesota! We're proud to rank in the Top 50 on the list, and even prouder that we were voted in by our own employees.