Derek Olinger
Principal Engineer
As a small town Minnesota native with a passion for construction, Derek has found his career with Bolton & Menk to be very rewarding. A Principal Engineer, Derek joined the firm in 2014 and has been serving as a municipal client service manager for multiple cities. He has experience with all phases of project development including early planning and public engagement, through design and construction. Derek has a particular interest in city-wide infrastructure planning, whether it be pipe network modelling or helping communities prioritize their infrastructure needs over the next decade. "Helping our clients break down problems for easier decision-making is very rewarding to me. Our team's joint focus on client satisfaction and the wide array of talent makes this possible every day." When he's not busy helping clients, you can find Derek golfing or working on home improvement projects.
Education
Minnesota State University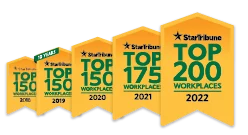 Named one of the very best workplaces in the State of Minnesota! We're proud to rank in the Top 50 on the list, and even prouder that we were voted in by our own employees.