Gene Dreyer, PLS
Principal Survey Manager
Gene is a Principal Survey Manager who found his home at Bolton & Menk in 2012. Gene began his surveying career in 1993 while serving active duty in the United States Air Force. He has built up his extensive resume to include ALTA/NSPS surveys, subdivisions, aviation surveys, agricultural drainage, boundary surveys, acquisition surveys, and a range of construction staking. Gene makes client satisfaction his driving force for any project. He is passionate about being part of a fast-paced, team-oriented environment that works together to help our clients achieve a successful project. When asked for a quote, Gene relied on George Patton, "When in doubt, observe and ask questions. When certain, observe at a length and ask many more questions." On the weekends, Gene and his wife can be found traveling and enjoying all the Midwest has to offer, as new empty nesters.
Education
Community College of the Air Force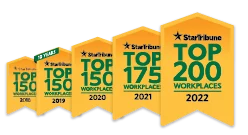 Named one of the very best workplaces in the State of Minnesota! We're proud to rank in the Top 50 on the list, and even prouder that we were voted in by our own employees.