Greg Broussard, PE
Principal Engineer
Providing not only solid engineering, but a long-term relationship is what Greg strives for when working with clients. Greg is a project manager who began his career in 2009. Along with managing project teams, he is responsible for assisting with preparation of plans and specifications on municipal and private development projects. Greg has experience in roadway design, stormwater management, sanitary sewer systems, water distribution systems, pedestrian facilities, commercial and residential site design, cost estimating, and construction management.
Greg is proud to be part of a team that provides a level of service not found anywhere else. At home he transitions from engineer to carpenter, building everything from raised garden beds to furniture.
Education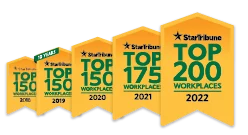 Named one of the very best workplaces in the State of Minnesota! We're proud to rank in the Top 50 on the list, and even prouder that we were voted in by our own employees.