Greg Mitchell, PE
Principal Engineer
Greg began his career in 1989 and serves as a project manager and design and construction engineer. He provides detailed design for a variety of municipal and private projects, specializing in site development design, including utilities, surface improvements, grading and earthwork analysis, industrial rail design, and stormwater management. Greg assists clients with making informed decisions, finding efficient and cost-effective solutions, and developing successful funding strategies. He says, "I enjoy working with the different communities to help provide them with the best possible solution for their needs. And with the talent at Bolton & Menk it is easy to provide our clients with the resources to meet those needs, for any situation." Greg shares his talents beyond engineering, volunteering with youth hockey and soccer associations, Cub Scouts, and church.
Education
South Dakota State University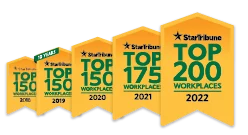 Named one of the very best workplaces in the State of Minnesota! We're proud to rank in the Top 50 on the list, and even prouder that we were voted in by our own employees.