James Archer, PE
Principal Structural Engineer
Jim is the principal work group leader of structural services for Bolton & Menk. He began his engineering career in 2001 and is responsible for planning and designing bridges and other structural infrastructure as well as business development activities and client service. He is committed to delivering projects that satisfy current and future needs in a practical, functional, and maintainable way. His knowledge and expertise in asset management gives him a unique understanding of the effects structural design has on project budgets and long-term maintenance activities. Outside of work, Jim can be found making structures of his own – learning new hobbies and working on his 60-acre farm.
Education
University of Minnesota – Twin Cities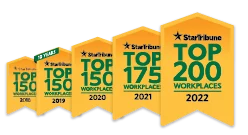 Named one of the very best workplaces in the State of Minnesota! We're proud to rank in the Top 50 on the list, and even prouder that we were voted in by our own employees.