Jamie Connor
Senior Environmental Coatings Specialist
Jamie is a protective coatings and welding specialist who began his career in 1988. His responsibilities include performing both shop and field observations, testing, providing inspections and facility audits, administering training and performance qualifications, and examining both protective coatings and various metal products. Jamie's duties also include shop and field fabrication/erection/coating observations and testing of structural steel components of buildings, fracture critical bridges, high mast transmission poles, overhead sign structures, and light poles. Jamie served on the committee to develop the Bridge Component Standard for the American Institute of Steel Construction. He is passionate about executing successful projects for his clients – according to their plans, specifications, and requirements, all while maintaining thorough project communication. Assuring our clients that their projects are executed successfully per the plans, specifications, and requirements is what drives Jamie.
Education
Ridgewater College (Hutchinson Institue of Technology)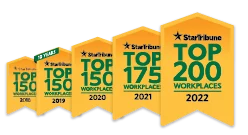 Named one of the very best workplaces in the State of Minnesota! We're proud to rank in the Top 50 on the list, and even prouder that we were voted in by our own employees.