Jane Kansier, AICP
Senior Planner
After more than 30 years working in the public sector, Jane joined Bolton & Menk as a senior urban planner to get back to her planning roots. She has worked in city and county planning, city administration, and public transit and has extensive experience in land use, zoning, and development review. Her primary duties include project management for services related to municipal planning, metropolitan area comprehensive plan development, and land use analysis and impacts.
Jane is known for her approach to creative problem solving. She says, "Planning projects are like puzzles, with pieces from multiple disciplines. My job involves identifying and gathering all of those pieces and putting them together to create a final product. Whether it's a simple site plan review or an overall comprehensive plan, it is rewarding to see it all come together." As an avid traveler, Jane picks up urban design ideas everywhere she goes.
Education
University of Minnesota – Duluth

Hamline University
Resources

Planners and engineers often see the world through different lenses. However, more and more we are seeing planners and engineers working side by side.
Learn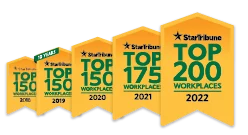 Named one of the very best workplaces in the State of Minnesota! We're proud to rank in the Top 50 on the list, and even prouder that we were voted in by our own employees.