Jordan Petersen, PLA, LEED AP
Senior Associate Project Manager
From project inception to implementation, Jordan is passionate about creating resilient, economically successful, and socially engaging places. As a work group leader and senior project manager, his skill set encompasses the dynamics needed for successful project coordination, client-focused management, and timely delivery. Jordan has managed and designed projects nationally, internationally, and in North Carolina since beginning his career in 2009. In addition to managing operations of the Raleigh Bolton & Menk office, his diverse project portfolio includes master planning, public parks, streetscapes, healthcare, urban infill, residential, commercial, and mixed-use developments. Jordan is a licensed Landscape Architect in multiple states, a LEED-accredited professional, and an active member of the Urban Land Institute (ULI) and American Society of Landscape Architects (ASLA). He enjoys creating sustainable, engaging, and inclusive public and private spaces for communities to enjoy and prosper. Outside of the office–and when not herding his pack of children–Jordan enjoys a good bike ride, hiking the landscapes of North Carolina, or a friendly game of pickle ball.
Education
Western Washington University

North Carolina State University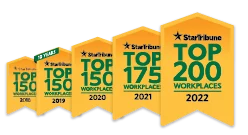 Named one of the very best workplaces in the State of Minnesota! We're proud to rank in the Top 50 on the list, and even prouder that we were voted in by our own employees.