Joshua Eckstein, PE
Principal Engineer
Josh began his engineering career in 2005. He has completed a variety of engineering projects related to municipal and county highways and streets; municipal sanitary sewer, water systems, and stormwater systems; and residential, commercial, and industrial developments. His design background includes preliminary design and planning, final design, preparation of construction plans and specifications, construction management, and contract administration. Josh also has a range of experience developing, designing, and managing projects with multiple agencies and funding sources. Josh loves the ability to take a project from preliminary design through construction and watch it become a reality for the client, similar to the satisfaction he gets when helping on the family farm.
Education
Minnesota State University, Mankato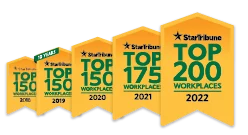 Named one of the very best workplaces in the State of Minnesota! We're proud to rank in the Top 50 on the list, and even prouder that we were voted in by our own employees.