Kevin Bittner, PE
Principal Engineer
Kevin enjoys interacting and working with a variety of people. His favorite part of the job is helping his clients solve problems by coming up with the best solution to fit their current need. He began his engineering career in 1985 and oversees both the Fargo and Ramsey Civil Work Groups. Kevin has experience in management, planning, design, and construction of various public works projects. He has worked as city engineer or assistant city engineer in numerous communities throughout Minnesota. His experience with the U.S. Army Corps of Engineers has included extensive work on FEMA Flood Insurance Studies, various hydraulics studies, and design of major flood control projects. Kevin takes in a Twins game whenever he can, and has a sports team of his own with six children and five grandchildren.
Education
University of North Dakota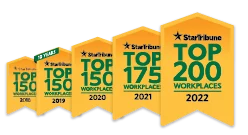 Named one of the very best workplaces in the State of Minnesota! We're proud to rank in the Top 50 on the list, and even prouder that we were voted in by our own employees.