Kyler Bender, PE, PTOE
Principal Engineer
Kyler has a passion for client and project management. This passion has led to a track record of successfully delivering highly visible, fast-paced, and challenging projects. This success, in part, is due to the priority he places on maintaining effective communication with clients. He understands the interdependent relationships between various functional project areas and promotes synergy between them to surpass our clients' expectations. Kyler began the practice of engineering in 2008 and serves as the business development principal-in-charge of Bolton & Menk's Southeast U.S. operations. His work has focused on design and construction of mechanically stabilized earth structures and retaining walls. He is experienced in lateral earth pressure design, global stability analysis, and geotechnical engineering as well as construction materials testing and field geotechnical engineering. His fast-paced nature is evident outside of work as well, where you can find Kyler on the golf course, grilling for friends and family, playing softball, and traveling.
Education
University of Central Florida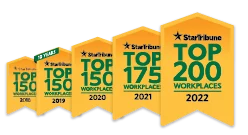 Named one of the very best workplaces in the State of Minnesota! We're proud to rank in the Top 50 on the list, and even prouder that we were voted in by our own employees.