Marcus Thomas, PE
Senior Principal Engineer
Marcus approaches projects by keeping desired goals and outcomes as familiar and measurable priorities throughout all phases of a project's development. His strategy of proceeding with the end in mind routinely results in high levels of client satisfaction and has generated a resume of award-winning projects. "Communities come to us with complex problems. I love that we can give them options and clarity, and experience that 'A-Ha! moment' with them." His commitment to proactive organization and communication has led to success in managing large project teams. Marcus joined the firm in 1994 and manages the firm's Minneapolis office. He has a range of experience in municipal project administration from conception through construction and is a leader in the company's equity and sustainability initiatives.
Marcus loves jazz music and plays the saxophone for the Prior Lake Wind Jammers. He and his wife actually met while they were both members of the University of Minnesota Marching Band. Marcus is also passionate about the work of 360 Communities, a nonprofit human services agency, where he serves as a board member.
Education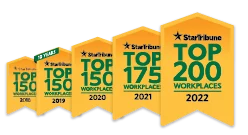 Named one of the very best workplaces in the State of Minnesota! We're proud to rank in the Top 50 on the list, and even prouder that we were voted in by our own employees.