Matt Blazer, PE
Principal Engineer
Matt is a Principal Engineer who finds that the most rewarding part of any process is resident interaction and communication. Since beginning his professional career in 2013, he's gained extensive experience with a range of projects related to road reconstructions, trail planning & design, streetscape implementation, and many Municipal State Aid (MSA) and federal designs. Matt has been involved in many award-winning projects, including 1 National APWA Project of the Year, 3 MN APWA Project of the Year winning projects, 1 Honorable Mention MN APWA Project of the Year, and 1 CEAM Honorable Mention Project of the Year. Matt is driven by the challenge of finding not only an acceptable solution, but the right solution. "Very few people are able to impact the world we live in as much as civil engineers. Whether it's providing reliable sewer and water to everyone, or adding a pedestrian facility to a busy road, we truly have one of the most impactful careers in the modern day." An engineer both day and night, when he's off the clock, Matt can be found completing home DIY projects with his wife and two kids.
Education
University of Wisconsin – Platteville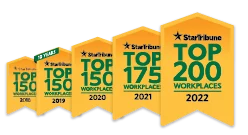 Named one of the very best workplaces in the State of Minnesota! We're proud to rank in the Top 50 on the list, and even prouder that we were voted in by our own employees.