Matt Mohs, PE
Principal Engineer
Matt joined the Bolton & Menk team in 2019 to take part in providing sustainable solutions that help communities and their residents thrive. As a Principal Engineer with over 20 years under his belt, Matt's experience is extensive— general city engineering, infrastructure planning, engineering reports, stakeholder and agency engagement, funding, site planning and design, and contract administration are just a few areas in which his skills are showcased. In addition, Matt has served as city engineer for several communities in Southeast and Central Minnesota. He is driven by the day-to-day challenges his clients face and is passionate about addressing their needs in an economic and feasible fashion. Matt is passionate about his family. He and his wife stay active by venturing to watch their son play football at UW-Stout, their oldest daughter dance for the Stewartville Tigers dance team, and they also enjoy watching their youngest daughter develop her musical talents and attending her recitals. Matt's fondest memories include all the games, events, competitions, and recitals that he's attended over the years for his kids.
Education
North Dakota State University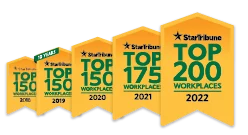 Named one of the very best workplaces in the State of Minnesota! We're proud to rank in the Top 50 on the list, and even prouder that we were voted in by our own employees.