Michael Warner, PE
Principal Engineer
Mike found his place at Bolton & Menk in 2011. A Principal Engineer and Manager, Mike's responsibilities include preparing cost estimates, feasibility reports, construction plans and specifications, and contract administration for a variety of municipal projects. He also serves as a primary client contact – managing internal staff, client budgets and schedules, and facilitating collaboration. In addition, his proficiency with AutoCAD Civil 3D software allows him to act as a design engineer and technical expert. With his experience and expertise, it's easy to see why Mike is one of our leaders. Mike has always been passionate about solving problems, searching for creative solutions, and competing in any and all activities— he says that for these reasons, he enjoys going to work every day. "Be a competitor, show compassion, and maybe most important, enjoy the ride." A sports buff at heart, Mike appreciates all things sports-related, whether he's watching, playing, or coaching.
Education
University of Saint Thomas

University of Minnesota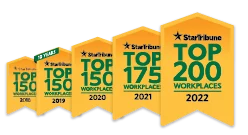 Named one of the very best workplaces in the State of Minnesota! We're proud to rank in the Top 50 on the list, and even prouder that we were voted in by our own employees.