Mike Boex, PE
Principal Engineer
Mike was drawn to Bolton & Menk for its client-centered municipal approach and focus on building relationships with clients. As the Oakdale Work Group Leader, he has been involved in all phases of engineering including feasibility studies, project design, quantity estimates, preparation of construction documents, advertisement and evaluation of bids, contract administration, project closeout, and preparation of assessment roles. He has been a project engineer and project manager on numerous street and utility projects in the Metropolitan area. Mike spends a lot of his time working and at the office, but ask him to play a round of golf and he's game.
Education
Awards
Bolton & Menk, Inc. – Above & Beyond Award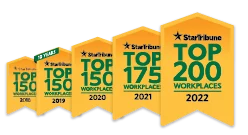 Named one of the very best workplaces in the State of Minnesota! We're proud to rank in the Top 50 on the list, and even prouder that we were voted in by our own employees.