Mike Eichers, PLS
Principal Survey Manager
A Principal Survey Manager, Mike joined the Bolton & Menk team in 2017. With experience in land surveying and taking on roles like crew chief, Mike is a vital source of on-site knowledge and leads the team with his best foot forward. He coordinates the planning, scheduling, and performing of technical engineering aspects during projects, as well as monitors project budget and production schedules to keep everything on track. As the director of the Minnesota Land Surveyors Foundation, Mike helps deliver scholarships to land surveying students across the state. In addition, he is also a member of the Minnesota Society of Professional Surveyors. Mike loves the variety that each project offers—he enjoys meeting clients and helping them through the complex processes of land surveying. When he's not busy in the field, Mike can be found spending time with his family and friends, hunting and fishing.
Education
Mankato State University

Mankato Area Vocational Institute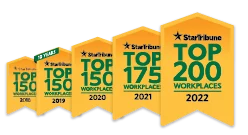 Named one of the very best workplaces in the State of Minnesota! We're proud to rank in the Top 50 on the list, and even prouder that we were voted in by our own employees.