Mitchell Hoeft, PE
Principal Engineer
Mitch is a principal engineer who began his engineering career in 2008. He specializes in trenchless utility rehabilitation and municipal engineering services. Mitch is involved in various organizations throughout the Upper Midwest and strives to establish connections within all aspects of public works. Connecting people and services is what drew Mitch to engineering. He believes that each project is unique and works hard to address every project need in a way that is cost-effective, politically acceptable, and minimally intrusive. In his free time, Mitch loves to travel and explore the outdoors; he is always looking for his next adventure!
Education
University of Minnesota

Hamline University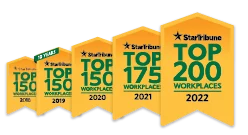 Named one of the very best workplaces in the State of Minnesota! We're proud to rank in the Top 50 on the list, and even prouder that we were voted in by our own employees.