Mojra Hauenstein, AICP
Senior Planner
Mojra is a senior planner at Bolton & Menk whose expertise spans the areas of neighborhood development and architecture, and conservation and sustainability, as well as economic revitalizations. She began her career in 1998 and is experienced in green and carbon-zero design, comprehensive planning, and economic development with an emphasis on sustainability and resilience practices. She is passionate about methane and carbon sequestration as well as how food, water, and energy decisions impact our environment and ultimately our health. She thrives on providing sustainable and customized solutions to communities in need. When she's not working, Mojra enjoys remodeling historic buildings, dancing to EDM, playing volleyball, and cooking organic and vegan meals.
Education
University of Manchester, Great Britain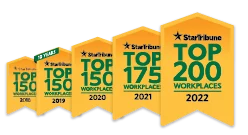 Named one of the very best workplaces in the State of Minnesota! We're proud to rank in the Top 50 on the list, and even prouder that we were voted in by our own employees.