Owen Todd, PE
Principal Engineer
As a principal project manager, Owen helps clients and communities with everything from identifying needs to maintaining projects after completion. Since starting his career in 1992, he has loved designing systems and ultimately working with people to make sure our designs meet their expectations. He is an active member of the Minnesota Society of Professional Engineers and chair of the scholarship committee. He also serves as a mentor for the New Ulm High School robotics team. Owen is passionate about getting young people excited about the STEM field and the support our firm can give students who want to pursue engineering as a career.
Education
University of Minnesota – Twin Cities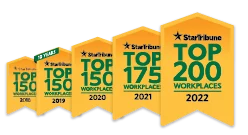 Named one of the very best workplaces in the State of Minnesota! We're proud to rank in the Top 50 on the list, and even prouder that we were voted in by our own employees.