Robin Caufman
Senior Planner
Robin is a senior planner whose focus is in the areas of community engagement, metropolitan area comprehensive planning, and land use analysis. Since beginning her career in 1994, she has filled multiple roles on regional infrastructure plans and projects, including transportation corridors, wastewater plans, environmental studies, and streetscape designs. Prior to joining the firm, Robin spent 21 years between Metropolitan Council and Metro Transit where she was responsible for working with local governments and communities on comprehensive planning, regional infrastructure planning, and engineering and construction of large transit projects. Robin uses her expertise in listening to project partners and community stakeholders and communicating technical information to ensure that there is clear understanding by all parties of project needs, purpose, benefits, and impacts. In her spare time, you can find Robin walking her two dogs, spending time with family and friends, and being in, on, or around water.
Education
University of Minnesota – Twin Cities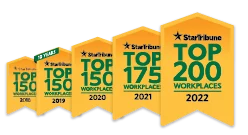 Named one of the very best workplaces in the State of Minnesota! We're proud to rank in the Top 50 on the list, and even prouder that we were voted in by our own employees.