Tim Lamkin Jr, PE
Principal Transportation Engineer
A Principal Transportation Engineer who is driven to provide safe transportation options to all travelers, Tim joined the Bolton & Menk team in 2013. He has worked on a variety of state, county and municipal transportation projects that include ADA compliance, roadway expansion, rural highways, utility relocation, roundabouts, and pedestrian, biking, and trail elements. Tim has significant experience in preparing preliminary and final design construction documents for MnDOT highways, constrained downtown corridors, and roundabouts. His passion for managing complex projects makes him uniquely qualified to lead our team. "I am continually impressed by how committed Bolton & Menk is to the communities we serve. We truly believe that all people should live in safe, sustainable, and beautiful communities and put that into practice every day." Tim does his best to set aside his weekends for time with his wife, twin daughters, and three pups— attending softball games during the summer months, and committing to volunteering, soccer games, and Gopher football in the fall. He also dabbles in at-home brewing and woodworking.
Education
Awards
American Council of Engineering Companies Minnesota – Emerging Leader Award

American Society of Civil Engineers Minnesota – Young Engineer of the Year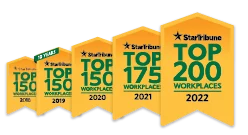 Named one of the very best workplaces in the State of Minnesota! We're proud to rank in the Top 50 on the list, and even prouder that we were voted in by our own employees.