Todd Hubmer, PE
Principal Water Resources Engineer
A principal and leader of the water resources operations of the firm, Todd began his professional career in 1992. Todd skillfully collaborates with clients to develop a vision for project outcomes and leads public processes to build community and regulatory support and trust. Throughout his career, he has developed strategic partners to assist in securing the necessary funding to bring any project, both small and large, from vision to reality. His experience serving as a consultant city engineer, watershed district engineer, and lead water resource project manager in the Upper Midwest has given him unparalleled insight into numerous project areas. When Todd isn't working with water, he's flying over it, traveling the world with his family any chance he can.
Education
Florida Institute of Technology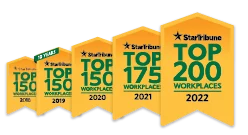 Named one of the very best workplaces in the State of Minnesota! We're proud to rank in the Top 50 on the list, and even prouder that we were voted in by our own employees.