Tony Rotchadl, PE
Principal Transportation Engineer
Tony is a Principal Transportation Engineer who joined Bolton & Menk in 2005. He is responsible for project management and leading hydraulic design on complex projects. Tony's skills lie in his understanding of how project components need to fit together; identifying risk and coordinating design elements to maximize the effectiveness and timeliness of client input. He has an eye for the details that require collaboration among our various design disciplines. Tony is passionate about ensuring our clients receive a level of service our founders would be proud of through communication, collaboration, and ultimately execution. He enjoys navigating the complex requirements of multifaceted projects and implementing real solutions that benefit all vested parties.
"I was lucky enough to start as an intern at Bolton & Menk and witnessed as a "wide-eyed" kid how true professionals operate. I'm grateful to have been afforded the opportunity to work with nearly every one of our teams throughout my career, from wastewater to transportation, municipal engineering to survey. This experience has kept me continually learning, continues to provide a challenging yet rewarding environment, and allows me to work with a fun, diverse mix of real people. Without a doubt, our people have been and will always be the foundation of Bolton & Menk's success." When he's not working, Tony enjoys the outdoors with his wife and three kids while also coaching youth sports (some of the sports he knows very little about)!
Education
Minnesota State University, Mankato
Awards
MN Valley Business Magazine/Mankato Free Press – 20 Under 40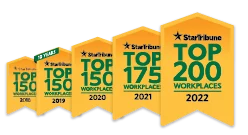 Named one of the very best workplaces in the State of Minnesota! We're proud to rank in the Top 50 on the list, and even prouder that we were voted in by our own employees.