Travis Winter, PE, LEED AP
Principal Engineer
Interested in math and science, Travis knew at a young age he wanted to be an engineer. He began his career in civil engineering in 2004 and currently serves as a principal project manager. "I enjoy working with clients to learn about their infrastructure needs and help them find solutions," says Travis. His range of experience includes planning, design, bidding, and construction administration of municipal projects—from street improvements to wastewater collection and treatment to park, trail, and recreation facilities. Travis serves communities not only as an engineer, but also as a fire fighter and emergency medical technician for the City of Sherburn Fire and Ambulance Department.
Education
North Dakota State University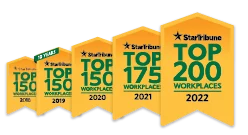 Named one of the very best workplaces in the State of Minnesota! We're proud to rank in the Top 50 on the list, and even prouder that we were voted in by our own employees.